Louvered Aluminum Sunshades
Metal sunshades (sometimes called Brise Soleil) are an effective means to obstruct undesired sun and heat gain while allowing natural light into your building. Sunshade louvers add an attractive design element as well. Numerous blade shapes, blade spacings, and trim profiles allow a design to suite your project requirements.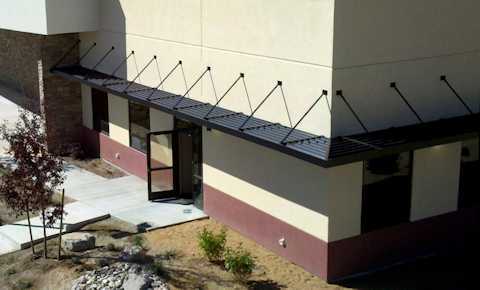 Sunshade Selection
The objective of a sunshade is to block the entry of direct sunshine into your building throughout the cooling season, while allowing direct sunlight during the heating season. This combination provides the greatest benefit for reducing energy consumption over the life of your building. Achieving this combination depends on several factors that can be viewed in our How Sunshades Work section.
Sunshades should blend with other building design elements and provide the desired appearance. Choose from our array of blade profiles, blade spacings, and trim styles to add an attractive architectural element to your building.
A variety of finishes are available from our Sunshade Finishes selection chart. Sunshades can be painted with a baked enamel or Kynar 500 finish, or have an anodized finish applied. A variety of standard colors are available. Custom colors can be selected by sending us a color chip. We will use our computer color match system to precisely match the sunshades color to other building facade components.
Sunshades are commonly specified in project documents under these divisions:
10 7100 Exterior Sun Control Devices (sometimes listed as 10 71 00, 107100)

Price Comparison
The louvered sun control device prices vary by model. We have included a comparison of prices for the various models to assist in product selection (see chart below).
Select the louvered sunshade models by price:
| | |
| --- | --- |
| Product Model | Price Compare* |
| H6JN8 | Least Expensive |
| H6JP8 | 2% more than H6JN8 |
| H6JN6 | 13% more than H6JN8 |
| H6JP6 | 20% more than H6JN8 |
| H6A*8 | 25% more than H6JN8 |
| H6T*8 | 27% more than H6JN8 |
| H6JN4 | 40% more than H6JN8 |
| H6A*6 | 50% more than H6JN8 |
| H6T*6 | 52% more than H6JN8 |
| H6JP4 | 53% more than H6JN8 |
| H6A*4 | 90% more than H6JN8 |
| H6T*4 | 95% more than H6JN8 |
*Price values for sunshade are for comparison purposes only. Actual sunshade quotation prices may vary depending on the sizes required and the options selected.
Installation
Installation for Architectural Louvers sunshades is simple. Each sunshade is equipped with outriggers for mounting to the building structural framing with mounting brackets (provided). Applicatons with larger sunshades require rigging support, which may be provided with your order.